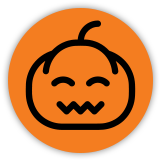 While the spooky season is upon us, you don't have to be afraid of our latest promotion! Stop by our practice to pick up some toy skeletons, pumpkins, space creatures and eyeballs. You can keep the toys for yourself but if you share them with others who need chiropractic care, you could win some nifty prizes.
How to Participate
If you give one of the above-mentioned Halloween toys to a friend or family member who could benefit from chiropractic care, you both can reap some rewards.
If the recipient brings one of the toys back to the office before October 31, they get the following:
An exam, X-rays and report of findings for just $31 (normally a $325 value!)
In exchange for you sending someone into the practice, your name will go into a drawing for some nifty "gifties"! You'll have a chance to win a relaxing massage, a Thanksgiving turkey and some other cool prizes.
Stop by Our Office Today
Time is of the essence! As this promotion ends on Halloween, stop by the practice today to pick up your gifts.