Meet Dr. Garrett Berg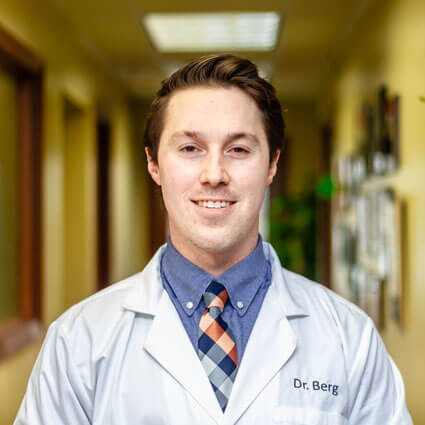 Dr. Berg started receiving chiropractic care since the young age of 5. His mother took him to see her chiropractor in their hometown of Eau Claire, Wisconsin. "She understood the broad array of health benefits chiropractic could provide for people of every age."
Experiencing the Benefits of Chiropractic
As a young child and while growing up, Dr. Berg was a very restless sleeper. After getting adjusted regularly by his chiropractor, Dr. Emily, he started sleeping better. He also discovered that chiropractic helped with his seasonal allergies. "As chiropractic can also positively impact the immune system, it is no surprise to me that I was rarely out of school sick."
Helping Him Stay Active
Growing up Dr. Berg was highly active in sports. Chiropractic helped to keep him in top shape structurally. It became clear to him that he should pursue chiropractic as it could help so many people achieve and maintain optimal health.
Education and Additional Studies
After earning a bachelor's degree from the University of Wisconsin-La Crosse in 2016, Dr. Berg enrolled at Northwestern Health Sciences University. He graduated in 2019 with a Doctor of Chiropractic.
While pursuing his doctorate, Dr. Berg interned at Parkview Chiropractic Clinic over three terms. He also spent his final term at Healthpro Chiropractic in Rosemount, Minnesota. He worked under Dr. Eric Rice. While there, Dr. Berg learned about sports chiropractic and pediatrics. He has completed additional studies in the following:
The McKenzie Method
Motion Palpation
Torque Release Technique
Chiropractic As a Wellness Tool
Dr. Berg loves getting to know his patients and providing excellent care that achieves great results. "I always strive to be the best I can be for the benefit of my patients." Beyond pain management, Dr. Berg sees how chiropractic is an effective wellness tool for anyone of any age. "It can be used to help someone achieve peak performance and overall wellness."
EXPLORE CHIROPRACTIC »
Outside the Office
When he's not at the practice, Dr. Berg enjoys spending time with family, friends and his dogs. He also loves to be outdoors, particularly golfing, fishing and boating. Dr. Berg is also a fan of the Minnesota sports teams.
Contact us today to book an appointment with Dr. Berg. He looks forward to getting to know you and your family!

Dr. Garrett Berg | (651) 578-8588